WeatherTRAK® Central
WeatherTRAK® Central is cloud-based software available as an annual subscription that provides real-time visibility and control from an Internet browser on any device.
Whether you're at a desk or working the grounds, you'll be able to program a single site or a portfolio of sites, monitor performance, be alerted to issues and track asset inventories from anywhere.
Save time and costs with centralized visibility and control available at any time, from anywhere, on any device.
Protect landscape and property with usage information, alarms and analysis.
Easily track irrigation asset inventory and oversee status of major assets.
Oversee and monitor site and contractor performance via dashboard and reports for automation and improved savings.
Reduce site visits and travel time and still know what's happening on the ground via a mobile device interface.
Monitor usage, breaks, leaks and more when used in conjunction with a master valve, flow sensor and either FlowLink or FlowShare.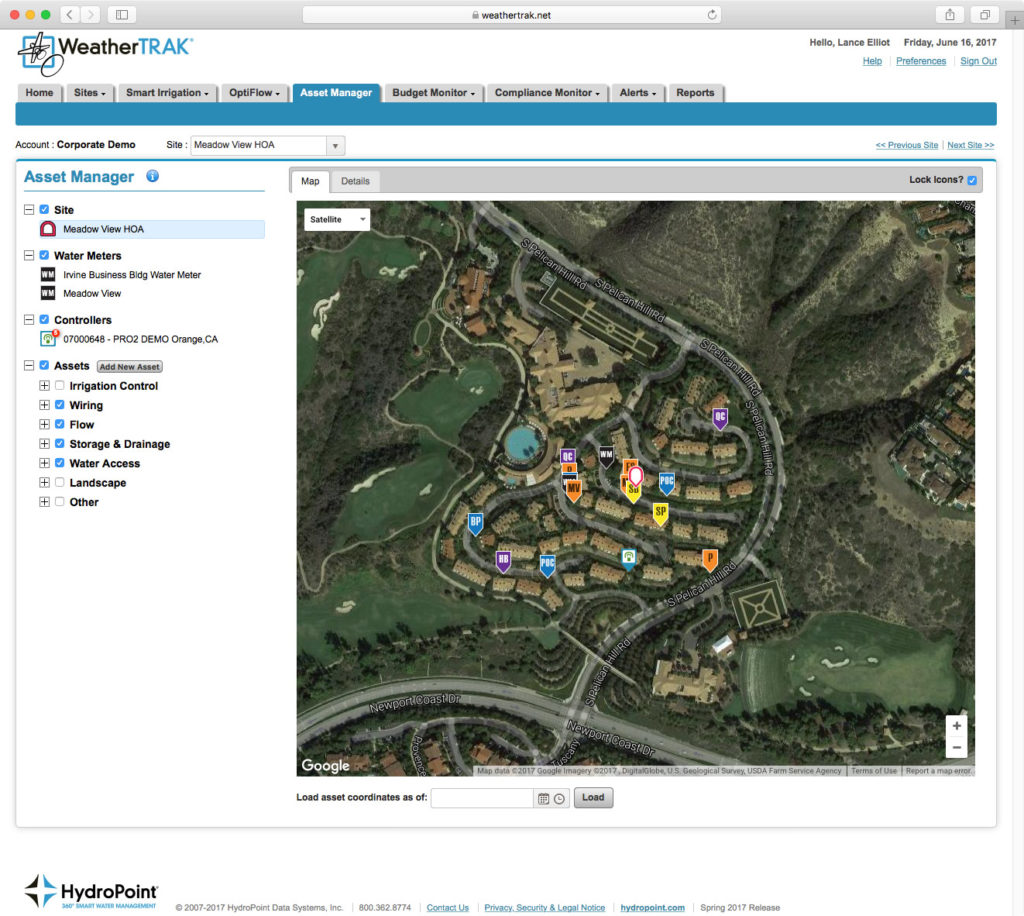 Asset Manager
The Asset Manager improves efficiency by letting you measure the impact of conservation efforts, changes in landscape, and pinpoint the location of various water control assets, from controllers to pumps, valves, sprinkler heads and more.
Budget Manager
The Budget Manager enables easy comparison between water bills over time. You can measure the efforts of conservation efforts, impact of changes in landscape or irrigation practices, differences in weather patterns, or more.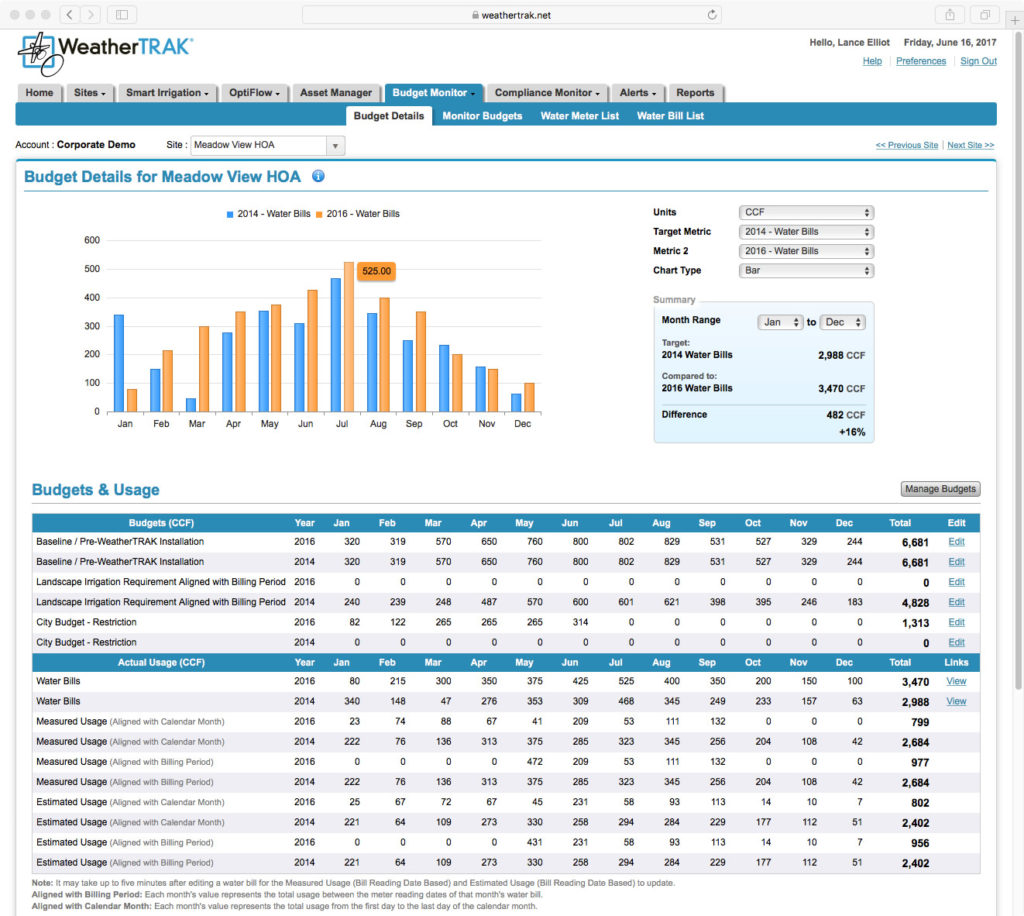 Features
Real-time site control
Manage by accounts, sites, controllers
Dashboard and details with drill-down interface
Multi-user access via secure login with customizable access levels
Manual watering via web or mobile app
Web-based runtime schedules, adjustments or reports
Remote station level programming
Station group management with multi-controller station changes
Real-time controller operating status
Customized naming – controller, program, and station
Change history to track web, user or field changes with historical values
Automated learned station flow from the web
24/7 alerts
Smartphone, SMS text or email notifications
User-defined alert preferences
Extended leak detection, management and visibility
Rapid respond to runtime, leaks, breaks, no flow and unscheduled use alerts
Real-time troubleshooting and diagnostics
Browser-viewable current actual real-time system flow rate and operating stations
Customizable flow thresholds and alert notifications
Portfolio manager
Dashboard reporting and summaries
Intuitive summaries for single sites, accounts or full portfolio
Actual and estimated usage by site, controller, and station
Customizable controller and site-based reporting
Setting change history reports – station and program specific
Quick search and filter tools
Analytics-based one-click reporting (export to Excel or PDF)
Site asset manager
Centralized site information – site address, landscape maintainer and location
Ability to import a site image that will be used in site specific reports for visual reference
Irrigation Asset GIS Tracking with Google Maps to track location, status and landscape data of controllers and meters
Automated controller inventories – hardware model, firmware version and microzone – automatically updated
Asset report – itemized landscape and irrigation assets
Budget manager
Dashboard of water consumption or fiscal dollars compared with user-defined budgets.
Daily measured (requires flow sensor) and estimated usage consumption for real-time budget status.
Quick glance interface for status of a monthly or annual budget
Filter/view options by account, budget type, and actual consumption data sources including unit, month or year
Water budget account report – a graphical budget status summary for all sites in an account as well as individual site status
Water budget site report – a visual summary of site's total usage across each water meter and controller
Water bill tracking with batch entry tools
Controller estimated usage calculations from station's flow rate and runtime
Weather data
Site-specific weather data accurate and resolute to 1 square km
Proven most accurate multi-factor hourly ASCE ET calculation models
Daily weather delivery to on-line controllers
Not dependent on a single weather station and no need to re-calibrate or manage replacement of add-on devices
Mobile access via smartphone
Real-time alerts and alert details for easy troubleshooting
Review the alert summary or dashboards by account, site, and controller levels
Manual irrigation on a station-by-station basis
One-touch to call or email HydroPoint's support team
Free application downloads for Apple or Android devices
HydroPoint technical assistance
Bi-annual updates with latest features
Bilingual support six days/week
Training courses and other online tools
Scheduling engine
Powerful engine that takes into account sprinkler type, precip rate, sprinkler efficiency, soil type, plant type, root depth, microclimate, and slope on station-by-station basis
Automatic daily adjustments based on site-specific weather
Independent station programming and control – up to 72 cycles each
Automated cycle and soak calculations
% adjust / fine tune by station
ET On / Off by station
Station-specific automated skip days
User set water windows and water days
Sports turf and high desert-specific scheduling
Flow Monitoring
When used in conjunction with our Flow products:
General flow monitoring
Multi-user access via secure login with access levels
Monitoring six flow functions independently from one another: controller high flow, also known as catastrophic mainline break failure; station high flow; station no flow; station low flow; leak detection; extended leak management
User defined threshold flow values for each function independently
User defined delay time from 1-6 minutes in 1-minute increments
Flow threshold in 1 GPM increments up to 35 GPM and 5 GPM increments up to 995 GPM
Instant remote shut-off / event pause
Smart alert and email notificationv
Alerts dashboard and detail with drill-down interface
Station flow management
Station High Flow Threshold can be set independently by user, or globally as a % above learned flow rates
User override of any individual station assigned flow rates or Station High Flow Thresholds
Automatic fault of currently running stations when high flow, low flow is exceeded or below no flow rate threshold
Scheduled irrigation stops when 3 stations in a row have a no flow alert
Any station is excludable from station no flow monitoring
Mainline break management
Ability to monitor, fault and turn off all running stations and test to determine true mainline breaks
Support for Normally Open and Normally Closed master valves
Learned flow
User can configure any stations to be learned
Learned flow operation information stored
Historical values available in the controller change history tracking report
Leak detection
Leak detection notification indicates when station is not running scheduled or manual irrigation, and the system flow rate exceeds the leak threshold
Extended leak management enables lower leak detection thresholds while eliminating false alarms
Flow reporting
Settings Change History – station, program, and flow specific
Actual and estimated usage by site, controller, and station
Automatic daily or on demand upload of flow and runtime data to WeatherTRAK Central
Flow reports for single or multiple controllers across a customized date range
Categorize usage by scheduled, manual and other irrigation to quickly determine the impact of manual irrigation or other unauthorized usage
Flow operating status
Viewable real-time actual system flow rate and operating stations
Includes manual operating stations as if the user was in front of the controller
"Using the WeatherTRAK Central web-based platform is easy. It only takes one minute to make a programming change to all controllers, whereas it used to take all day to complete those site visits just to make a tiny change to the irrigation controllers."

– Energy Specialist, Monterey Peninsula Unified School District